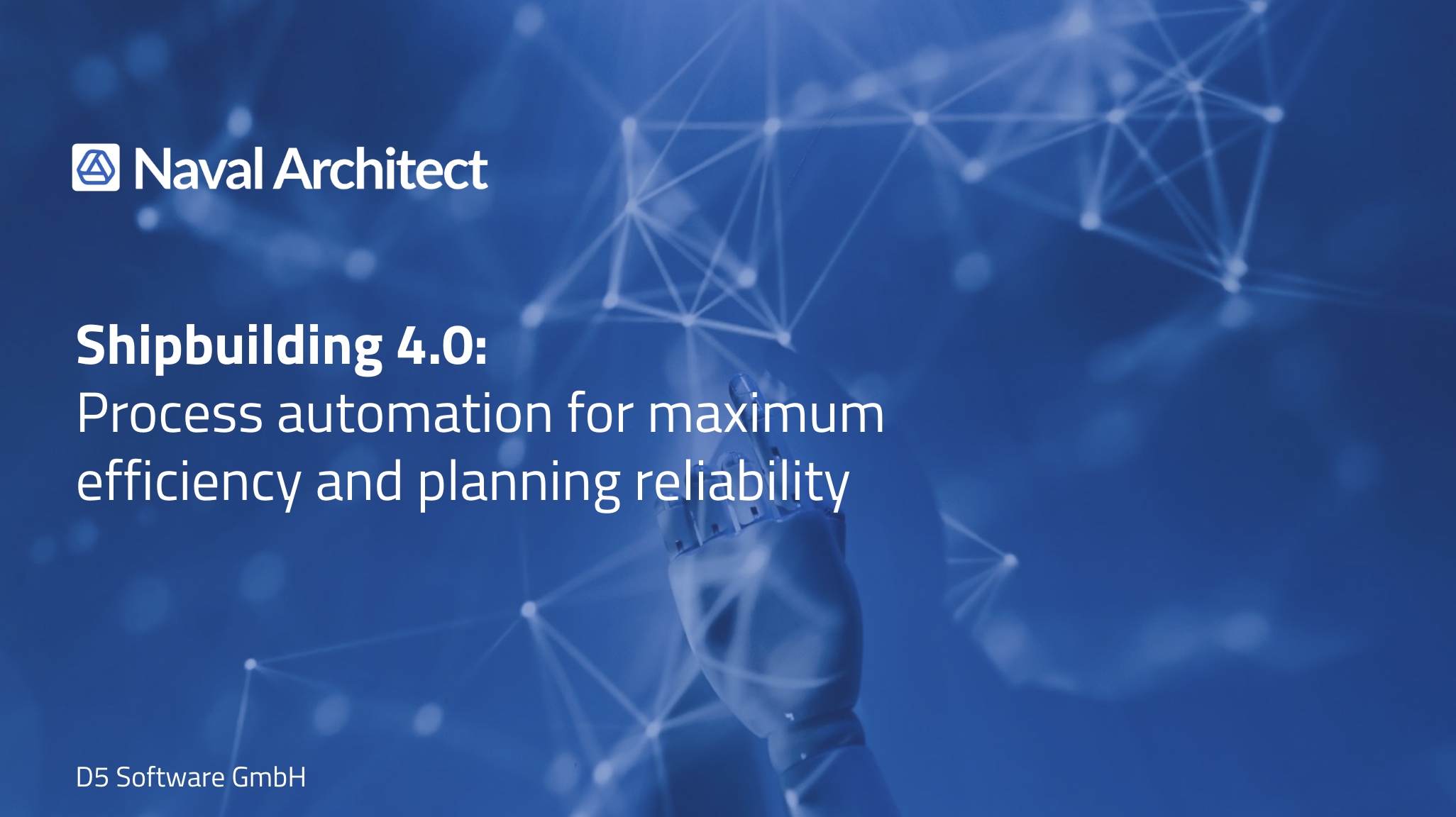 Process Automation for the Future of Shipbuilding
Shipbuilding 4.0: Process Automation for maximum efficiency and planning reliability
The main way of transport for global trade is maritime shipping, with over 90% of traded goods being carried by ships today. No matter if it's food, cars, machinery, equipment or oil and gas – ocean shipping has become one of the cheapest means of transporting goods. At the core of this is the $150+ billion shipbuilding industry. However, the shipping industry already represents more than 2.5% of global CO2 emissions. The International Maritime Organization therefore has set a target to reduce these emissions by 50% by 2050. This trend towards decarbonization and zero-carbon shipping is steadily increasing the demand for new builds with climate friendly technologies to build the green ship of the future. The industry needs to not only implement these technologies on a larger scale and faster, but also more cost-effectively.
The shipbuilding industry is now at a turning point
In order to address these topics, it is necessary to have a modern underlying technological basis. The traditional, rather conservative shipbuilding sector increasingly recognizes the potential that comes with digitization. Nevertheless, this industry must overcome two challenges first to unleash its potential to innovate and transform:
Inefficient design process:

Shipbuilding Engineers edit their designs with multiple software programs and tools. As design updates are made on a regular basis, they need to manually revise and iteratively update existing working documents. Valuable time is wasted on an outdated process with high automation and improvement potential. As a result of these inefficiencies, duplication of work occurs again and again and projects are often delayed while new projects can't be started in the meantime.

Costly planning errors:

Once a project starts, many different departments (engineering, procurement, calculation, etc.) need to coordinate and keep each other updated while working on their individual workstreams ("working silos"). This poses a key challenge as it is crucial that everyone works with the most up-to-date data to avoid errors. However, as each working group has their own tools, structures and format, it is not obvious that they know what updates have been made by others and what the planning status of other working areas is. As a result of this intransparency, work is often done with incorrect or outdated information and mistakes are made in the process, leading to additional costs to correct these errors.

Despite these widely known challenges and the resulting risk, the digital toolkit of engineers has remained more or less the same in recent years. The industry has not yet explored the potential of digitalization and cloud technology to simplify and automate processes. Interestingly, the same challenges above that the shipbuilding industry is facing also applies to other larger engineering segments, such as the construction or process & plant engineering industry.
Unlocking the potential of process automation: building an integrated cloud platform for shipyards, design offices and suppliers
Naval Architect addresses the challenges above by building an integrated cloud platform based on process automation and a single source of truth. The platform is immediately accessible via web browser, no installation is necessary. This makes it easy to share data between teams and collaborate. We have implemented a robust change management system that saves and manages all changes in versions, enabling full transparency and hassle-free cross-functional work.

Naval Architect automatically creates the 3D model and calculates design data such as areas and volumes. Users can create their own structure and data types, draw walls and decks and create insightful reports. With Naval Architect's topological model basis, the built-in AI recognizes changes and updates automatically. Consequently, it will adjust all surrounding structures and data according to the change made. The secret sauce to Naval Architect however lies in the capability to manage product data in the best possible way. Providing transparency makes sure that all team members work with the right version for engineering, calculation, procurement and construction.
With Naval Architect, you will gain efficiencies in structuring and updating all design data with a single source of truth. This enables an efficiency increase of over 50% already today as compared to the traditional, iterative process.
Strengthening the competitive position and laying the foundation for the digital transformation journey
Even though the challenges are more relevant and urgent than ever, no comparable product offering exists in the shipbuilding industry. Other market players focus on isolated tasks (e.g. CAD modeling), whereas Naval Architect centralizes the key design processes. We challenge the status quo on how teams collaborate, laying the foundation for a true digital transformation journey.
✅ More information
See more information about our product here: benefits | features | use-cases
If you are interested to use the ship design platform Naval Architect in your organization, you can request a free discovery call here. In this online call, we will learn about your specific requirements and give you a detailed demo of our shipbuilding software.