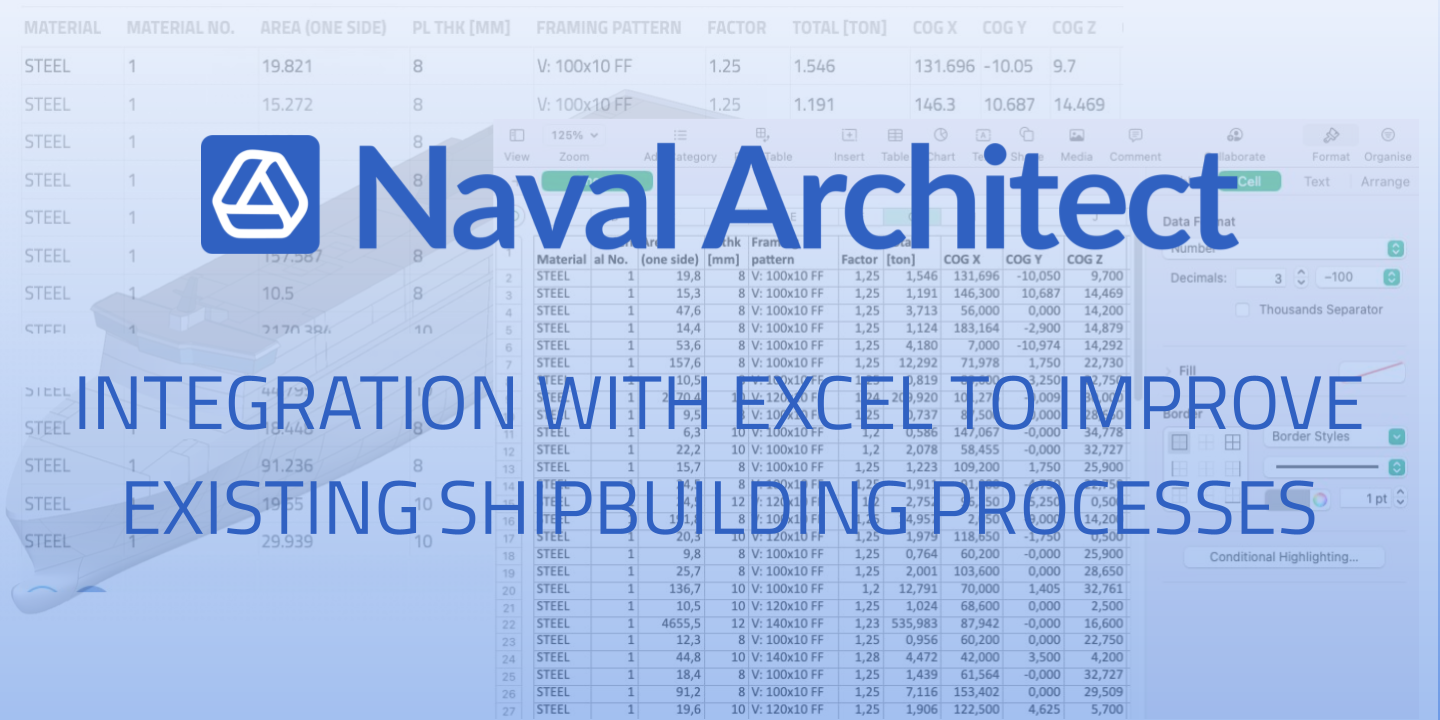 Integration with Excel to improve existing shipbuilding processes
Microsoft Excel is a widely used tool in shipbuilding. It serves as a reporting and estimating tool in well-established, proven workflows. However, it shouldn't be used as a database for the reasons stated here. Therefore, Naval Architect offers integration with Excel to improve existing shipbuilding processes.
Ways to improve the existing shipbuilding processes
Every ship design and production company has its own secret, well-suited spreadsheets for reporting and estimating. Usually these spreadsheets are stand-alone documents that need to be manually fed with data. There are many ways that Excel tools can leverage data from the central ship data model. We have come up with a few of the examples described below, but we are eager to hear your story! Get in touch with us!
Insight to all project data in one place
Thanks to the integration with Excel, you can track not only the production status. Lists that are very important for the design and production processes in shipbuilding, such as equipment lists or weight reports, also need regular updates.
If your company uses Excel spreadsheets for these purposes, you can easily pull the data from the central ship data model and automatically keep it up to date. A huge advantage of this is that you can enter the data once into Naval Architect and then use it in many different places without any additional effort!

Design and production process tracking
Currently, tracking production processes requires manual information exchange between engineering, production and project management. Unfortunately, this is often accomplished with a status tracking Excel file that people distribute via email or FTP.
The centralised data model in Naval Architect allows all parties involved in the shipbuilding project to easily access the information. The existing Excel spreadsheet for status tracking can pull data directly from the database. This saves everyone involved from having to manually copy data into another spreadsheet and from having to exchange files via email.

Reliable input for quotations, reports and calculations
Various types of quotations, reports, and calculations performed in Excel often require engineering teams to enter information. The information requested is usually geometric data of the vessel or some specific breakdown of various vessel characteristics, for instance. Currently, people provide this data by manually measuring in the general arrangement plans or by manually listing the data from the technical specifications. As a result, a lot of work is duplicative, repetitive, and often prone to human error.
​Naval Architect makes it easy to pull data directly from the central data model. The data is automatically used in the Excel spreadsheet that performs the quotation, report or calculation, without effort and possible errors involved in the process.

READY TO IMPROVE YOUR workflows but still use the excel tools you value?
Naval Architect is the industry's first platform to boost project data management based on a digital ship model. If you are interested to learn more, let's meet for a 30 mins session to discuss how Naval Architect can help to make your processes more efficient and reliable: Request a free demo here. We also offer a 14-day Free Trial of our platform.