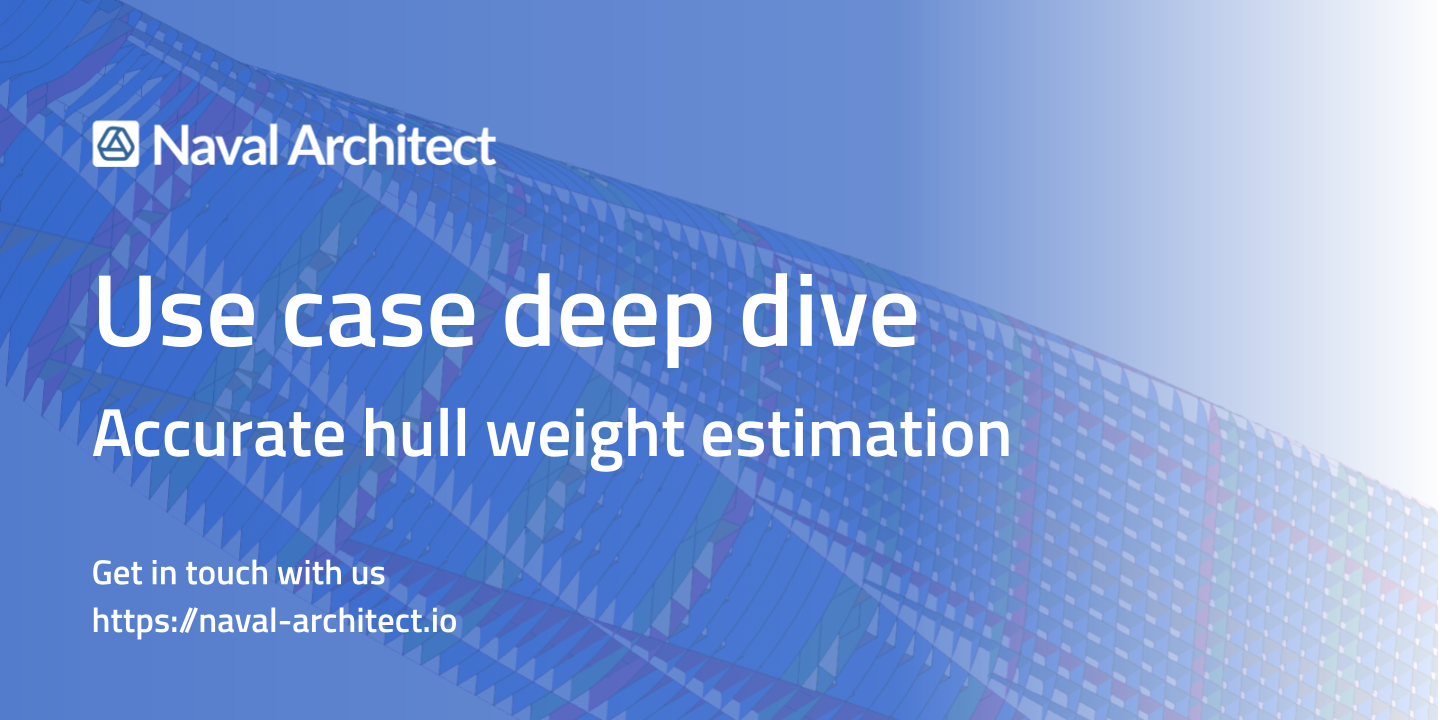 Accurate hull weight estimation
Weight is the most important characteristic of any newly built ship. At the same time, accurate hull weight estimation in the beginning of the shipbuilding project is very time consuming. Naval Architect allows you to create a ship data model based on 3D geometry, with no more effort than drawing the general arrangement plan in AutoCAD. With the data model, you can easily and reliably calculate the weight of the ship's hull.
Work smart not hard
When you start a new project, the hull structure design is not available. The model in CADMATIC Hull, AVEVA or other detail design software is created at a much later stage. Design offices handle the hull weight estimation differently, for example:
by estimating hull weight based on previous projects
by expert estimation at various levels of detail
using parametric approach based on main ship particulars
by drafting 2D construction plans and calculating "by hand"
Unfortunately, the above methods are always one of two things: inaccurate or time consuming. Naval Architect is a solution that combines high accuracy and short time needed to calculate hull weight.
How does it work?
Naval Architect combines 3D geometry, which is extremely easy and fast to create, with the customisable data layer. The 3D geometry provides accurate data on the area every hull plate and the data layer allows you to calculate the weight of each hull member based on hull plate areas.
Below are some of the latest ship models we have created in Naval Architect for the purpose of product demonstration to our Clients. These were existing ships whose actual hull weight and structural design was unknown to us. For each example, we indicate how much time it took us to achieve the result and the accuracy we achieved compared to the final design weight, which was later checked with the Client.
| | | |
| --- | --- | --- |
| Ship type | Time to build the model | Achieved accuracy of the weight estimation |
| Mega yacht ~80 meters | 16 hours | +/- 5% |
| Research Vessel ~60 meters | 14 hours | +/- 4% |
| Patrol vessel ~80 meters | 18 hours | +/- 3.5% |
| Ro-Pax ferry ~190 meters | 25 hours | +/- 6% |
In the simplified method we used, each hull member is given a structure weight factor that corresponds to the assumed hull structure arrangement at each specific location on the ship. With the reporting tools in Naval Architect, you can automatically calculate the weight and COG and get updates once any design change occur!


Why does it work?
The hull weight factors selected for multiple types of hull members usually subject to random estimation errors. Thus, when the number of the hull members is large, the errors statistically cancel out. Without a detailed breakdown of the hull members, as provided by Naval Architect, it is not possible to achieve the effect of error cancelation.
Reliability of hull weight estimates is generally low in methods currently used in design processes, such as the parametric approach or expert estimates. This is due to the fact that any error in the selection of parameters directly affects the final result.
Naval Architect's accuracy can easily be further improved by obtaining more details about the actual hull structure during the design process. Our topological model allows effortless updates to the existing geometry and the entire data layer, allowing the calculation to evolve as the process progresses.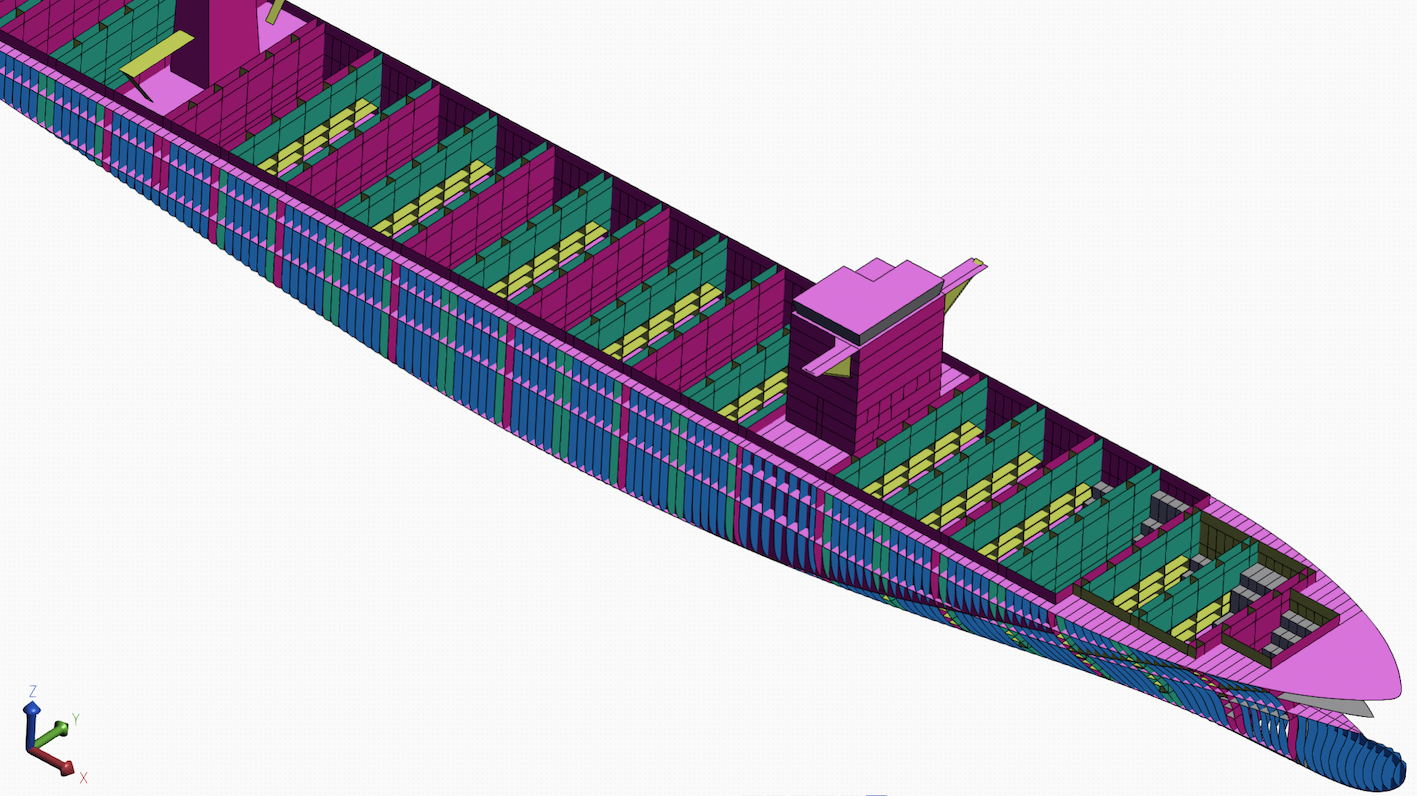 My methods work just fine, why do you need Naval Architect then?
If you spend a lot of time calculating hull weight in the early stages of design and get satisfactory results, we can offer to shorten that time by applying your best practices more efficiently. However, the data model created in Naval Architect for hull weight estimation can be used in many different ways, for example:
as a basis for the general arrangement plan and other arrangement drawings, thanks to the integration with AutoCAD,
and many other possibilities. The data model is here, everything else you use it for is free!
Trust us, it is worth giving a try!
Naval Architect is the industry's first platform to create and maintain accurate hull weight estimation from the project start and through the whole ship design process. If you are interested to learn more, let's meet for a 30 mins session to discuss how Naval Architect can help to make your processes more efficient and reliable: Request a free demo here. We also offer a 14-day Free Trial of our platform.