Key Success Factor: efficient teamwork and partner integration
A cruise ship is often thought of as a floating city. It has everything a city has, plus the fact that it can move. Building such a ship is a complex process and requires different expertise from different fields (HVAC, steel, outfitting, etc.). Therefore, many stakeholders from different disciplines and organizations are involved in the design & engineering process of a cruise ship. Therefore efficient collaboration and partner integration are key for a successful outcome of the project. 
What is Partner Integration?
Digitalization is having a major impact on the way work is done these days. In addition to the way product data and information is handled, it is also expanding the communication options between employees, external service providers and other project members. Partner Integration is the concept of integrating any type of collaboration with the new options that arise from the possibilities of digitalization. 
Within the highly competitive shipbuilding industry, working efficiently with all project stakeholders is the basis for an efficient and robust design process and to realize sustainable competitive advantages.  
Current collaboration challenges 
Whenever different parties involved in a project come together, the coordination effort and the potential for errors due to miscommunication increase. Due to the complexity in huge shipbuilding projects and the lack of suitable solutions, the probability of errors is even higher.  Specifically, the following challenges are present: 
High coordination effort:

The exchange of information and alignment between the participants, including suppliers, sub-contractors and service providers, is inefficient and time-consuming (e.g., sharing various excel files or CAD data via email).

 

Unclear project status

:It is often difficult for the stakeholders to identify where the latest data is located, in which areas the design was last changed, and which adjustments are still necessary

 

Miscommunication

: Communication with different stakeholders based on multiple documents and work statuses is prone to errors and often requires unnecessary rework

Working inefficiency:

Often bottlenecks and collisions with other departments prevent simultaneous work and thus slow down time-to-market

 
Efficient teamwork and partner integration with Naval Architect
Going from working in silos to a fully connected design & engineering process is what we want to achieve with Naval Architect: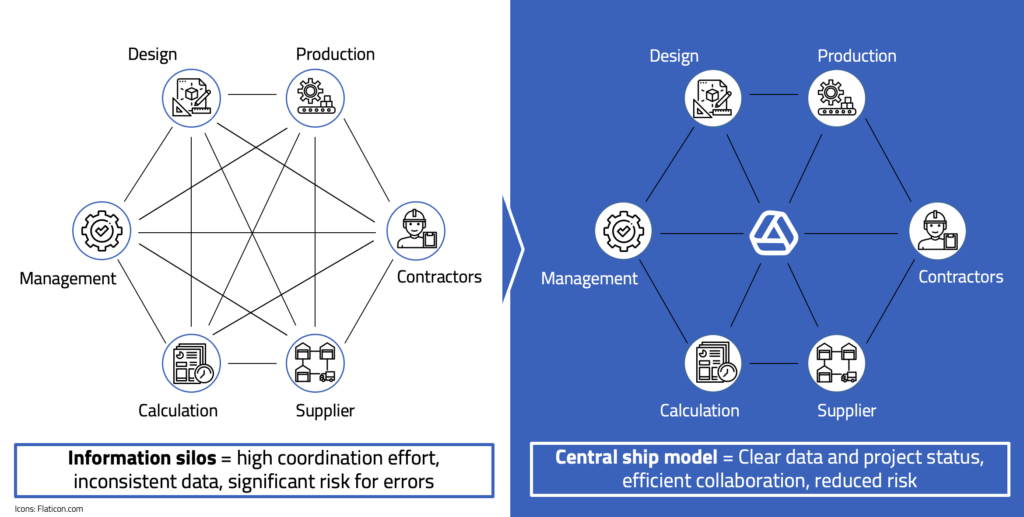 Naval Architect's goal is to connect all project stakeholders over a central ship model. The goal is to increase collaboration efficiency while also reducing the risk of errors at the same time. Our offering includes the following features for optimal partner integration in shipbuilding projects: 
Cloud platform: 

Naval Architect is a cloud-based software that runs directly in your web browser – no installation is required. At the core of the software is a shared digital ship model for every project member to work on. You can easily invite and share your design to other colleagues or partners. E.g., when aligning early design concepts with your customer or sharing details with construction or suppliers without the need to download another software program.

Real-time collaboration: 

Designing a shipis a complex project and therefore it is often decomposed into sub-tasks, referring to functional unit departments, suppliers etc. To accelerate the process, simultaneous working is introduced in our software. This makes it possible to work at the same time on the same ship model with other users and monitor changes in real-time. 

Roles and rights system: 

To tackle upcoming confusions that come along with collaborative working, we have implemented a role and rights management system. Control precisely the work responsibilities and directly assign work packages to the responsible person to reduce overhead chores. Track the project progress in real-time and take counter measures to avoid additional costs. 

Change and configuration management: 

Derive different configurations from the most recent ship model. Create various range of versions to evaluate the best valid option for the ship. Compare the model changes and merge the best solution into your root ship model to proceed. 
The mission of Naval Architect is to bring all advantages of modern technology into ship design. We provide a cloud-native design platform to link stakeholders in the shipbuilding process with a shared digital ship model. We are rethinking collaboration in shipbuilding by moving away from isolated tasks to a shared digital representation of the ship.  
If you are interested to learn more, please book a free discovery call here.
We are looking forward to hearing from you.