The current state of digital transformation in shipbuilding
Current State of digital transformation
When looking at the level of digitalization, shipbuilding is often considered as one of the least digitally advanced industries. It is, however, important to understand the differences between digitization, digitalization and digital transformation first:
Digitization: is the

conversion

of information into a computer-readable format. A prime example of digitization is moving from

a

drawing board to AutoCAD. The latter

can be

considered as

a digital drawing board

that speeds up drafting

and

is currently

one of the core tools found throughout the entire shipbuilding industry

. Digitization, however, is just about the optimization of

certain tasks

such as to reduce the required time to create technical drawings.

Digitalization:

is the use of digit

al technologies

to

optimize

business

processes

.

It

particularly

changes

how work is done

and

how stakeholders engage and interact.

It

goes

well

beyond the implementation of technology

for certain tasks and optimizes the global-scale performance of organizations, yielding a significant competitive advantage for them.

D

igital Transformation:

is the total and overall societal effect of a wide-spread digitalization

of the industry. 

It refers to the transformation of business models,

socio-economic structures, legal and policy measures, organizational patterns, and so forth.
The shipbuilding industry has undergone a widespread digitization in the past, but the digitalization has yet to take place. Naval Architect is the very first solution on the market that seeks for a true digitalization of business processes to initiate a comprehensive and sustainable digital transformation of the shipbuilding industry.
So what is Naval Architect?
Naval Architect is a cloud-native design platform to connect stakeholders of shipbuilding projects over a browser-based cloud platform to collectively work on a "digital ship model". Instead of focusing on the improvement of isolated tasks, Naval Architect addresses the overall process: it fundamentally changes how stakeholders engage and interact in shipbuilding projects by moving from a process of information distributed across technical drawings, CAD data and other documents to a shared digital representation of the ship. The central model serves as a reliable "single source of truth" for all stakeholders to collaboratively work on, setting the basis for a sustainable digital transformation of the shipbuilding industry.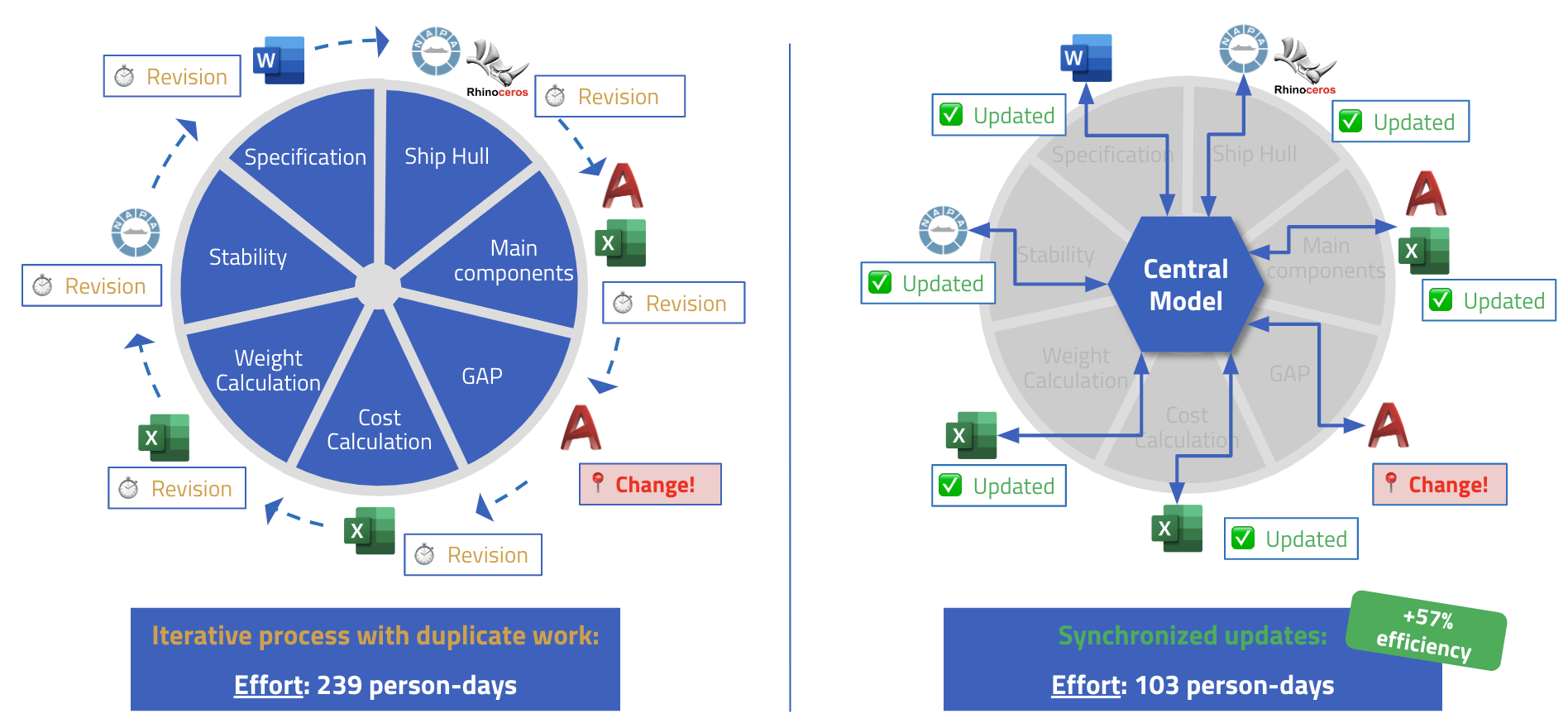 Naval Architect is the only Ship Data & Design Management Platform that ensures shipbuilding projects are delivered on time and on budget. Our unique technology is able to automate your design, engineering, and production processes, maximizing your projects efficiency and reliability. Our solution in a nutshell: We provide a central platform for creating and managing project data based on a digital ship model. This central model is the "Single Source of Truth" and contains all information about the ship: e.g. General Arrangement, 3D CAD model, planning status, weight calculation, specifications, component data, project history and any other information you define. The model is continuously maintained throughout the ship's life and is the essential source of information.
Schedule a free discovery call with us to find out how we can best support your company in the digital transformation process.