Shipbuilding Project Data Management Software
The industry's first cloud platform to automate design, engineering, and production processes.
We make sure your projects are consistently delivered on time and budget.
A digital ship model with all relevant information in a single place. Derive quantities and other properties directly from the model.
Efficient teamwork and transparent change management. Edit designs simultaneously with other users and share information easily across stakeholders.
3D ship design from day zero. Draw in 2D plan views to create a full 3D model combining the speed of 2D drawings with the added value of a 3D design.

Shipbuilding Project Data Management Software – Digital Twin
We help you to achieve maximum efficiency and reliability in your shipbuilding projects.
Naval Architect connects stakeholders over a browser-based cloud platform to collectively work on a digital representation of a ship – including all relevant information throughout the project lifecycle. The benefits of this digital twin model are increased efficiency and data consistency, minimizing the risks for time delay and planning errors.
Naval Architect's vision is a comprehensive digitization of the shipbuilding industry – from ship design over manufacturing to subsequent ship operation – based on a central database and a shared digital ship model. We call this vision:
Ship Information Modeling (SIM)
The SIM – a database that contains all the information about a ship – is continuously maintained throughout the ship's life and is the essential source of information (BIM for shipbuilding). By streamlining the design process and by offering a digital and collaborative approach, we believe that our ship design software can significantly reduce the overall risks in shipbuilding projects.
Ship Information Modeling (SIM)
Minimize your error and overhead costs with our Shipbuilding Project Data Management Software
Frequently Asked Questions (FAQ)
What is Naval Architect?
We help you to manage information in your shipbuilding projects from concept design to commissioning. Our software maintains the overall picture during the entire project lifecycle, so you can plan reliably and efficiently keep track of the project status during the execution phase. We create the transparency you need to make sure that your projects are consistently delivered on time and within budget.
What use cases do you support?
Our solution supports a variety of of use cases, but typical use cases are:
Requirements

Cost Estimation

Weight Estimation

Specification

Cost Tracking

Weight Tracking

Scheduling

Design Status

Procurement Status

Construction Status

Commissioning Status
What are the benefits of using Naval Architect?
Lower operating costs from concept design to commissioning

Minimized risk of project delays and cost overruns
What is the difference to systems like NAPA Steel, Siemens NX, Cadmatic?
While other systems are focusing on CAD modeling, our strength is in managing and sharing information across departments, stakeholders and project partners. We eliminate the weak spot of keeping track of project data and status along the project lifecycle.
If you are focused on information management, why do you support 3D modeling as well?
Our digital ship model combines multiple dimensions of data found in shipbuilding, ranging from numerical and textual data as found in specifications documents and spreadsheets to 3D geometry. We support creating all necessary data including a basic 3D model, although in later project stages these are created and imported from the CAD tools employed at your projects. Being able to start with a 3D model earlier is nevertheless a valuable addition to the sales process.
What formats do you support? What integrations are possible?
Naval Architect can be integrated with any other software. Our technology is specifically designed for communication with other tools including engineering applications. For the latter we support 30+ CAD data standards off-the-shelf (e.g. STEP, IGES, DWG) to pick up as much information as possible from engineering. 
My organization does not allow a cloud application. Can I still use Naval Architect?
For sensitive sectors, such as defense, we offer on-premise deployment on demand.
Can I test Naval Architect?
We offer a free 14-day public testing environment (Sandbox). For enterprises and shipbuilding companies, the process is structured as follows:
Discovery:

We conduct a first call to get input about your team's requirements and the challenges that Naval Architect needs to solve. 

Customization

: Customize our platform to your needs and workflows.

Testing

: A dedicated test phase in which we support you in building a first prototype in Naval Architect with real data.

Rollout

: After completing configuration and testing, go live!

Support

: We make sure that our users have the support they need and fix any problems as needed.
Contact us and one of our team members will get back to you as soon as possible to discuss further.
Have more questions?
Get in touch with us and we will get back to you asap:
Test all functions of our Shipbuilding Project Data Management Software.
Create a digital ship model, add specifications, import components – and much more.
(payment data not required)
Leading Shipbuilding companies trust our Project Data Management Software
Start your journey today to mitigate risks of project delays and cost overruns effectively.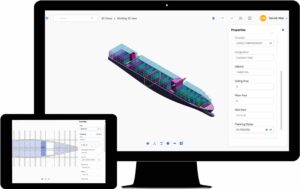 Book your free discovery call
Let's meet for a 30 min session to discuss your challenges and opportunities. We will together figure out which of your processes can be made more efficient and reliable leveraging our technology.
No worries – it's free and no strings attached.